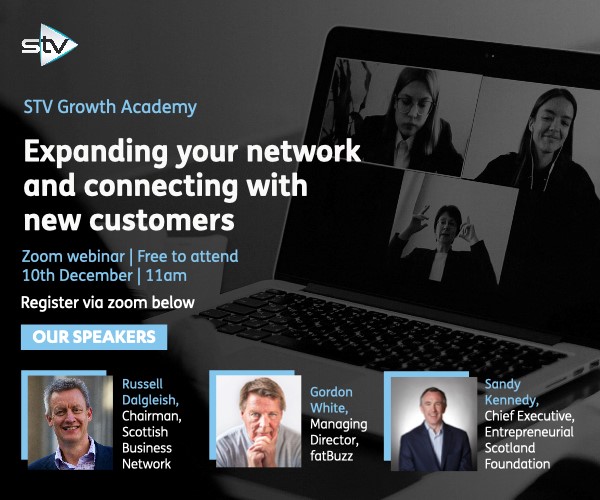 The STV Growth Academy returns next week!
Join us at our next STV Growth Academy on Thursday 10th December; it's free to attend.
Networking is one of the most important skills to have in the business world and as business owners and entrepreneurs, it is imperative to seize the chance to network and build new relationships that can help to grow your business. With continued video conferencing and remote working comes a brilliant set of opportunities on how you can connect with others to help your business thrive.
Our next webinar focuses on the theme of expanding your network and connecting with new customers with our fantastic lineup of speakers including Russell Dalgleish, Chairman of Scottish Business Network; Gordon White, Managing Director of fatBuzz; and Sandy Kennedy, Chief Executive of Entrepreneurial Scotland Foundation. Our panel will be discussing how you can expand your network and connect with new customers in an increasingly digital world and the ways in which you can tap into fantastic networking support within the entrepreneurial community.
Spaces are limited to 100 people only!